15 Sep

Guide To Plantation Shutters For Bay Windows

One of the great things about plantation shutters is that they can be custom-made and installed on any kind of window you can imagine. They look great in living rooms, bedrooms and on-screen doors leading out into a backyard, but the one window type they look best on is the bay window.

Bay windows are stylish, luxurious and high-class. They add the perfect kind of aesthetic value many homeowners are looking for, especially if they actually live near the ocean or the bay. As elegant as they are on their own, they are even more elegant with the right kind of plantation shutter panels installed.
What are Bay Windows?
Bay windows are a set of usually three or four windows side by side that are arranged at an angle pointing outside. Bay windows acquired their name because they were primarily installed on homes near the waterfront. The angled windows allowed homeowners to capture the million-dollar view of the water.
Because of this, bay windows are now typically associated with luxury and high-class living. Homes built on waterfronts are usually expensive, so bay windows naturally acquired this connection. Even when installed in homes that are nowhere near any major bodies of water, bay windows are still often seen as a premium item.
Even if you live in a home near no water, bay windows can be a great way to get a good view of your neighbourhood or your backyard if it is particularly big. Especially if your house is built on an elevated ground.
One drawback of bay windows is that due to their wider angles and typically larger dimensions, they can offer a little less privacy than desired. This is where plantation shutters come into play.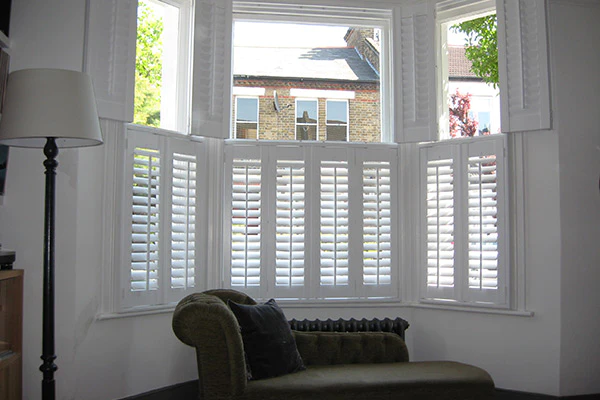 Can Plantation Shutters be Installed on Bay Windows?
Plantation shutters are known for their versatility. Whether they are made from timber, PVC or aluminium shutters, they are usually designed with customized dimensions to fit the sizes of any window frame. This makes them more adaptable than blinds, curtains or shades. Because of this, plantation shutters such as bifold plantation shutters, can be installed on just about any kind of window type, including bay windows.
The angle and size of most bay windows make it seem like working with them would be a hassle. Thankfully, plantation shutters with  various frame types in bay windows are not only possible but encouraged. The two work together very well for a variety of reasons.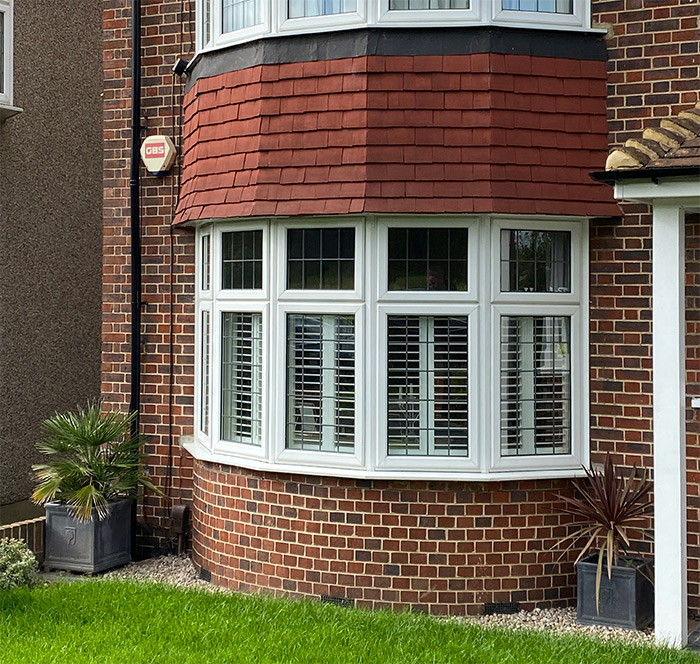 More Natural Light
One of the benefits of bay windows is that they can let in extra sunlight into your home, making your indoor spaces look cosier. Plantation shutters are a fantastic way to control how much light you want to allow into your home thanks to rotatable louvre panels.
Since bay windows have wider angles, there may be days when they are letting in too much sunlight, or you may find that traditional window blinds aren't quite cutting it. Plantation shutters are a perfect way to control exactly how much natural light you want in your home.
Extra Privacy
As mentioned above, bay windows look great as they allow you to see more of the outside from the inside, but the inverse is also true. Their larger frames and wider angles might make it easier for any nosey passersby to peek into your home.
This can be very easily stopped by having bay window plantation shutters installed. Since the multiple panels and louvres can tightly close up, this will make it impossible for anyone to see inside from outside. Not to mention that due to the tilting nature of shutter panels and louvres, you can still allow in a good amount of sunlight while still blocking out any views from the outside.
Shutters Can Reduce Outside Traffic Noise
One of the biggest benefits of plantation shutters is their ability to block out noise much better than blinds or curtains. This is because the louvres and frames cover every inch when shut, providing a second barrier after the glass windows. Plantation shutters are especially helpful if your bay windows are facing the road or any source of noise.
Great Aesthetic Pairing
It's basically impossible to deny that plantation shutters and bay windows are a match made in heaven. Just as bay windows don't look as good with curtains or blinds, plantation shutters look most elegant and natural when mounted on angled windows.
While timber and aluminium shutters are viable options, PVC plantation shutters will be your best bet if you want the most modern look available. At FloorVenue we can colour match your walls as well for a seamless transition.
Bay window shutters are also a great way to greatly increase the value of your home, making them a great long-term investment.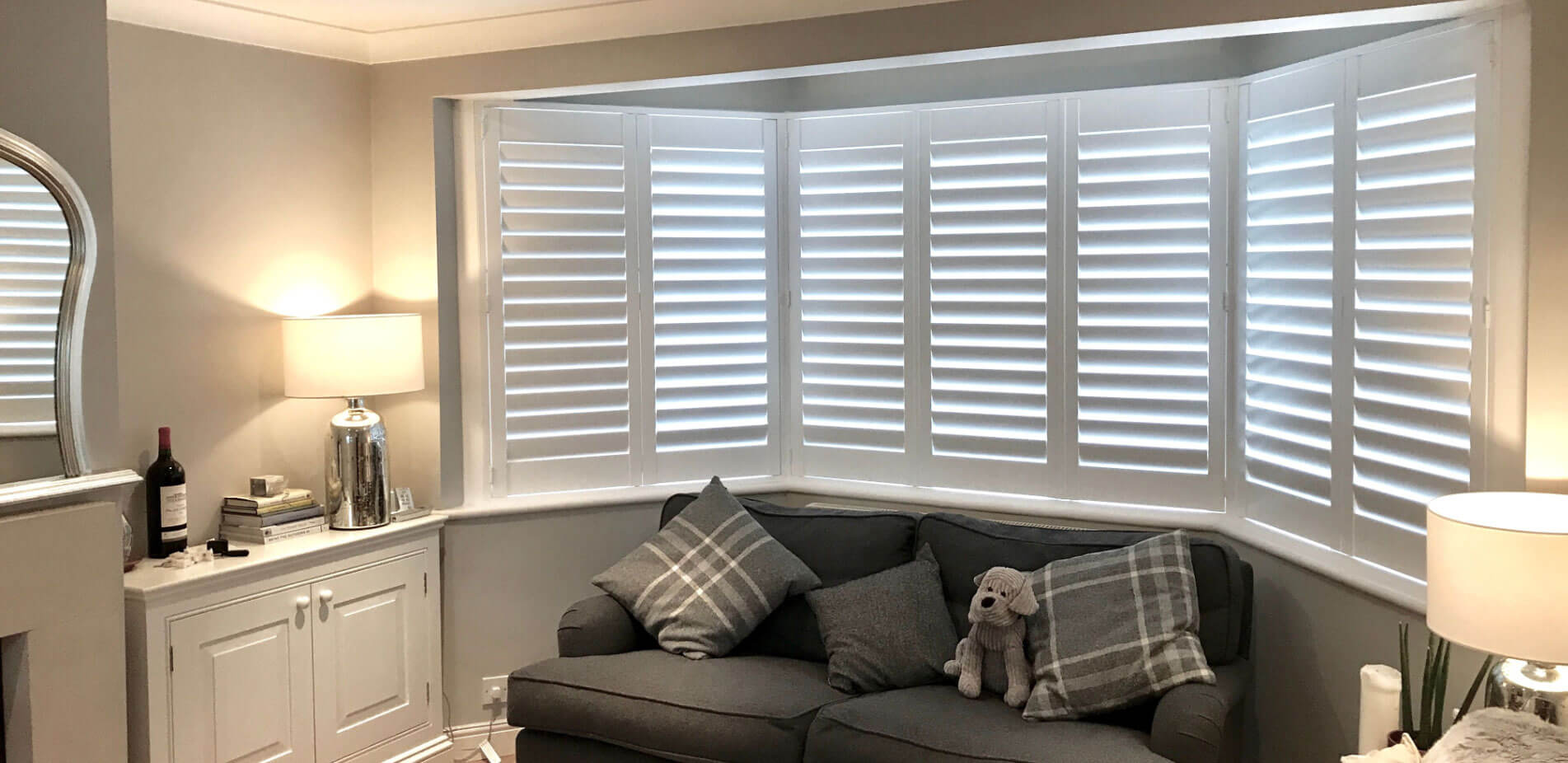 Great Way to Save on Energy
Because bay windows are wider than most other window types, they are a lot less energy efficient. They are more likely to leak a lot of heat. Plantation shutters therefore act as a great way to counteract this flaw, as they have insulation properties that will keep in your heat during colder days and nights.
What kind of Plantation Shutter Material works Best with Bay Windows?
Plantation shutters can be boiled down into one of three categories: PVC, timber and aluminium shutters. While PVC, aluminium or vinyl plantation shutters are cheaper and certainly more popular, it's hard to deny the allure of a natural timber shutter frame outfitted on your bay window.
PVC can still look great given the right colour and should still definitely be considered an upgrade over standard window blinds or shades. But if you really want to maximize the visuals and the overall value of your home, a timber plantation shutter from FloorVenue would be the most logical choice.
What kind of Plantation Shutter Mechanical Design works Well with Bay Windows?
It's important to understand that plantation shutters come in different kinds of mechanical styles. While things like the size of your windows or the dimensions of your recess have a big say in what kind of shutter panels will work best, it's also very important to keep in mind how many windows are attached together.
As mentioned before, bay windows come in different sizes and arrangements. Most only use three or four window panels side by side, but there are other variants using five or more.
Depending on whether your bay windows use an even or an odd number of window panels, you may have better experience installing bay window shutters that are bifold or completely fold open from left to right. An on-site consultation with a professional FloorVenue installer is a great way to help you figure out which kind of bay window shutters are right for you.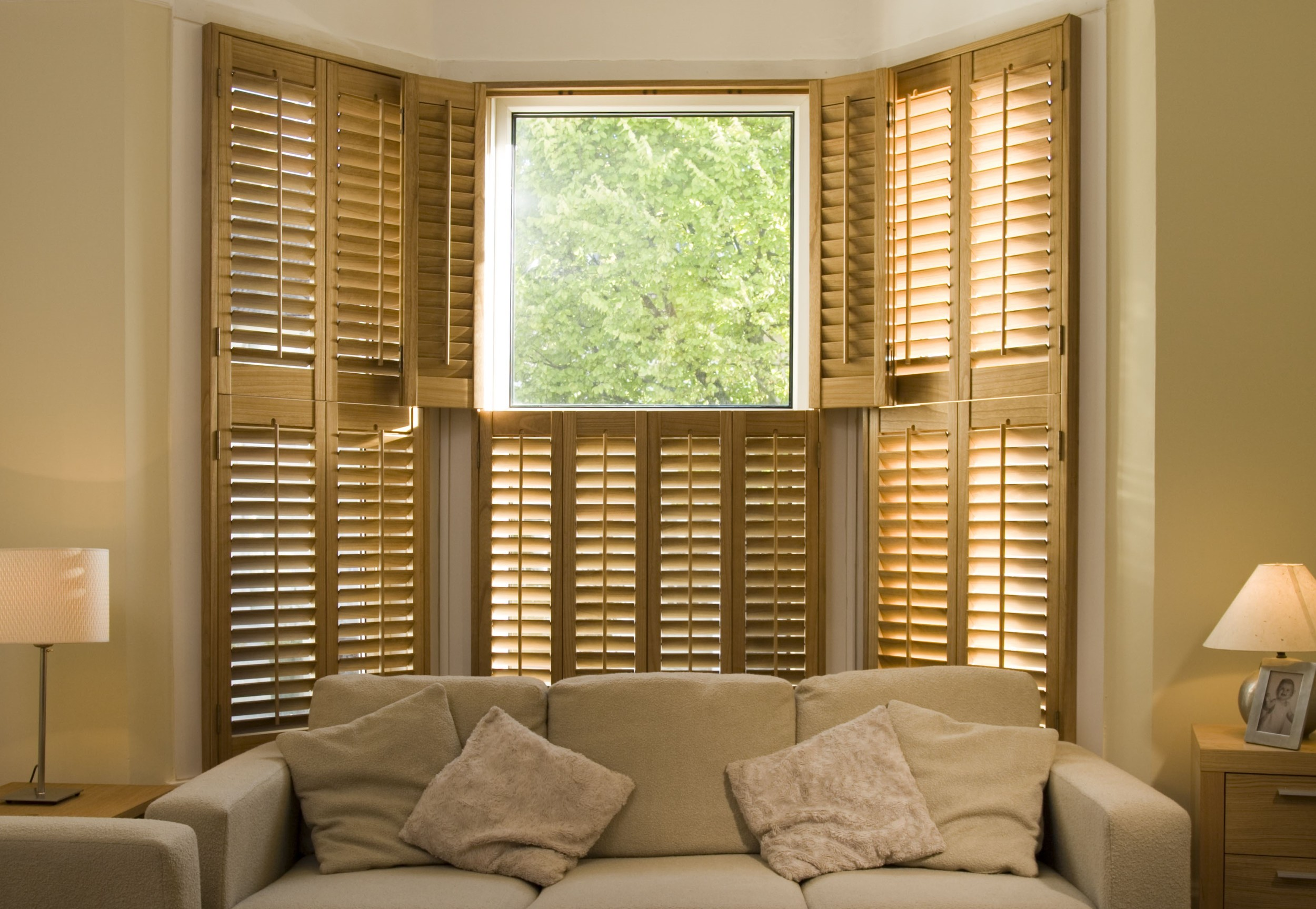 Are Plantation Shutters Easy to Install on Bay Windows?
Due to their angled nature, it is a little trickier to install plantation shutters on bay windows, but not by much. The process is still very similar to installation on regular windows, you just need to be a little more careful when installing shutters that fold open. If installed too close, they can bump into an adjacent shutter panel and cause either a jam or some damage.
If you're feeling a bit intimidated by the idea of installing bay window plantation shutters, you can always hire a professional installer from FloorVenue to do the magic for you. Having said that, DIY plantation shutters on bay windows are a great option if you want a customized set that you can put up yourself. It can help you save money if you're operating on a tighter budget, and you'll feel the immense satisfaction that comes with installing these works of art yourself!
Is Installing Bay Window Shutters More Expensive?
Because bay windows have wider angles and tend to be taller than your average window, you can expect the installation fees for them to be somewhat more expensive than usual, although shutter costs do vary. A bay window is, after all, meant to be large enough to expose as much of the bay as possible, so shutters for them tend to be larger as well.
Get in Touch with FloorVenue Now for Your Bay Window Inquiries
Though we've covered all the basics of bay window shutters, you may understandably still have a few questions or concerns about getting them installed yourself. Bay windows come in a huge variety of shapes and sizes, so figuring out what the right configuration is for you might take a bit more help and time.
If that's the case, feel free to get in touch with us at FloorVenue at any time for a simple consultation with some of our professional manufacturers and installers. No matter the shape of your window frames or how many T posts you need, then we'll guide you through any kind of bay window installation easily.