15 Sep

Professional Plantation Shutter Installers

One of the most important parts of any renovation process, if not the single most important part, is the installation. This is true for carpets, blinds, flooring, appliances and last but not least, plantation shutters. That's why it's extremely important to hire professional installers you can trust.

Whether you want to go down the DIY route or hire someone who really knows what they're doing, it is vital to choose a source that will offer you the services you need, and provide a warranty! At FloorVenue, we're proud to say that we can be that source for you. To help put you at ease, here's everything you need to know about what to look for in a professional plantation shutter installation.
Are Plantation Shutters Easy to Install?
As long as you have the right kind of instructions with proper detail, installing plantation shutters is actually not too difficult, even for complete novices with little to no experience. They are much easier to install compared to carpeting or hardwood flooring.
The hard thing about crafting a plantation shutter is the actual manufacture or construction of it. Depending on the mechanical type and the size, this can be a difficult process that not only involves a good deal of woodworking experience but many expensive power tools and woodworking tools as well such as power saws or table saws.
But with DIY plantation shutter kits, like the ones we offer at FloorVenue, you can receive your custom shutters that are already built and measured to the dimensions you specified to match your very own windows. The only assembly required on your end involves a few simple tools that anyone can own and use, like screwdrivers, Allen keys and a power drill.

What are the Benefits of a DIY Plantation Shutter Installation?
Though the task can seem daunting to the uninitiated, DIY installation of plantation shutters isn't a very complex or scary process. This is made easier when you take into account the benefits this path offers.
Arguably the main benefit of a DIY plantation shutter installation is that it is cheaper. You won't have to pay any labor or installation fees. All you'll have to pay for are the shutters themselves and any tools you may need for the installation that you don't already own. So the total cost of shutters will be lower.
You will also experience the satisfaction of having completed a project like this on your own! Though your mileage with this sensation may vary depending on how much passion you feel about home renovation projects in the first place.
What are the Downsides of Installing Shutters Myself?
There are two major potential cons that can come with installing plantation shutters on your own.
The first is that the process can take longer than you might have planned on, even for bifold plantation shutters. This is dependent on your own skill level and experience with projects of this kind. Some people only need 25 to 30 minutes to install a shutter on a window, whereas others might take over an hour. If you feel you will be slow with assembling plantation shutters, it may be better off to hire a professional instead.
The other big downside of this route is that you might end up botching the process. While plantation shutter installation isn't a particularly delicate process, that doesn't mean it is impossible to not mess up.
And even if you do install the shutters eventually, you could still end up damaging them in the process. Louvers or frames that get scratched or bent will reduce both the lifespan of the shutter panels and their overall value should you choose to put your home on the market later down the line.
With this in mind, you may be better off choosing a professional plantation shutter installer instead. This is the case regardless if you decide to install a timber, vinyl or aluminum shutter.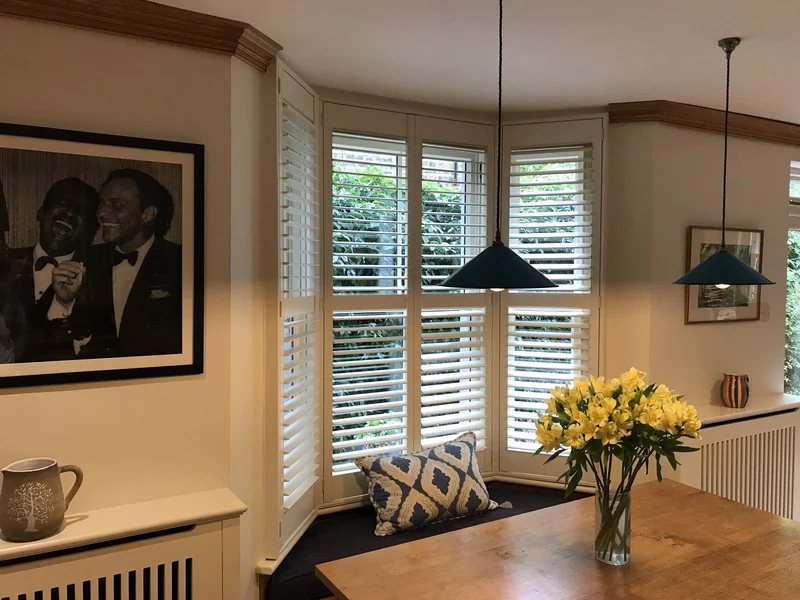 What Should You Look For in a Good Plantation Shutter Installer?
Though installing the various types of plantation shutters isn't too complicated, that doesn't mean you should hire someone who will not pay close attention to the details. If you want to maximize the benefits you'll receive from owning plantation shutters such as energy efficiency and insulation, sunlight exposure, privacy and more, hiring a professional installer who is detail-oriented is very important.
Precision Manufacturing
When it comes to plantation shutters, an error in manufacturing of more than 3mm results in a rejected product which cannot be used. Our expert craftsmen at FloorVenue have the right machinery to manufacture down to a fraction of a millimetre to ensure your custom-made shutters fit perfectly into your window frames.
Precision manufacturing means no light is leaked when you close the louvres, and a hassle-free installation process (because it actually fits in the frame).
Delicacy Handling and Maintenance
Proper shutter installers also know how to screw and mount things properly so that damage does not incur over time, regardless of the type of frames used. While many people think that screwing in a hinge or mounting panels is straightforward, there is always a proper order of operations that needs to be followed. This helps ensure that different mechanisms don't accidentally clash in unforeseen ways that can lead to disrepair or awkward jams with other hardware components.
And in general, professional plantation shutter installers simply have a lot more experience working with frame pieces, predrilled holes, screw caps and all the little bits and pieces that go into a plantation shutter installation. They are also able to recognise potential issues during the initial measure rather than give you nasty surprises when trying to install.
Keeping Things Level
For one thing, a professional shutter installer will make sure that the shutters are perfectly level. Installers with experience know that most windows, even bay windows, and their window sills or recesses are not perfectly level. Having level shutters is vital for controlling the amount of light and heat you want in or out.
Levelling out things for shutter panels and frames generally involves using a caulking gun, which professional installers have a lot of experience with. Using this tool is arguably one of the most difficult parts of installing shutter panels, so it would be wise to have a professional install plantation shutters if this is too far outside your comfort zone.
Selecting the Right Components
Experienced installers will also know how to choose between a Z frame or an L frame depending on the nature of your windows and their frames and recesses. The right frame can make all the difference depending on various circumstances. This includes how much space in the recess (window frame to glass) and the design you prefer.
Expert Advice
Experienced installers are also capable of providing helpful recommendations during the consultation or installation process that a novice would never even think of. A professional shutter installer has installed many panels on many windows, so they end up developing a second sense for many things. Perhaps they have spoken with so many customers that they know which options are most appealing, or they know the best way to install and place a louvre tilt rod that will make operating the plantation shutter as easy as possible.
Another thing some professional plantation shutter installers have experience with is appraisal. Believe it or not, installers end up learning a thing or two about the benefits of hard fixture treatments on the real estate market, especially if they've been working in the same neighbourhoods for several years.
All this experience helps them intuitively figure out which plantation shutter materials, design types and frame styles are considered the most valuable. Considering that many people purchase plantation shutters in order to increase their home's value for long-term investments, this kind of hard-to-come-by advice can prove invaluable.
Can Damaged Plantation Shutters be Repaired?
The most common cause of damage to plantation shutters is when kids play push and shove a little too close to the louvres and end up breaking one or two. Improper installation can also cause the hinge to become loose over time. Sometimes, wooden shutters may become squeaky when opening or closing the louvres, or even change shape when exposed to moisture for too long.
It should go without saying that in these instances you should not attempt to repair the shutters yourself and hire a professional instead. While installing shutter panels isn't too complicated, constructing them and repairing them requires more skill.
We recommend sending us a video to explain the situation for a quick and easy estimate quote for repairs. More often than not, we will likely need to custom-make the replacement parts when they are damaged, which means we will need to come over to measure up.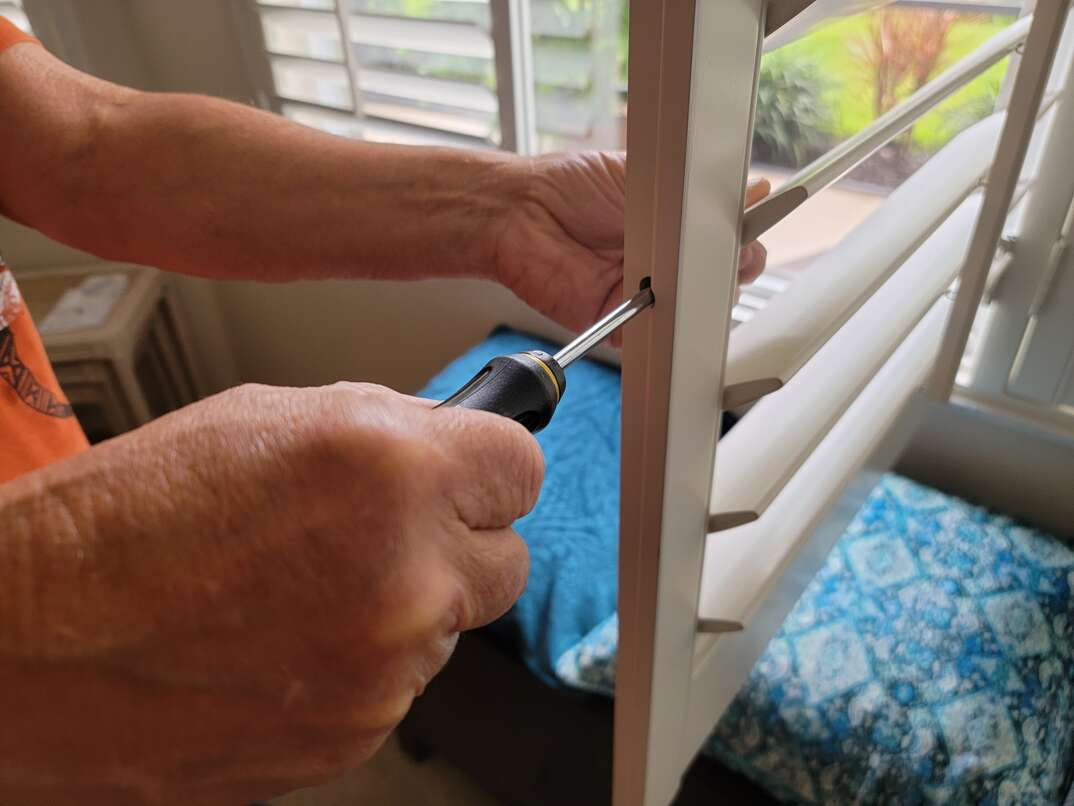 Contact Us at FloorVenue to Meet Your Very own Professional Plantation Shutter Installation Experts
Getting paired up with the right plantation shutter installer is very important, and it's something we at FloorVenue take very seriously. That's why you should get in touch with us so we can get you started on having your custom plantation shutters crafted and installed as soon as possible. Our installers are passionate experts who are dedicated to giving you the best shutter panels you can find in Australia.