15 Sep

Ultimate Guide To Timber Plantation Shutters

When getting ready to purchase some brand new plantation shutters, it's hard to resist the allure of ones made of natural timber. Wooden plantation shutters are not only gorgeous but also valuable. Timber shutters are the perfect way to spice up the looks and value of your home at the same time.

If you're just about ready to take the plunge and outfit your home with some beautiful timber shutters but just need a little nudge before you make your decision, this article is for you. Below we'll discuss everything you ought to know about timber shutters, including their looks, their insulation properties, their maintenance and more so you can shop with confidence.
What Are Wooden Plantation Shutters?
Plantation shutters are usually made from one of three materials: PVC (vinyl/polymer), timber, and aluminium. These shutters have become popular replacements for window blinds and curtains due to aesthetics and longevity alongside a plethora of other benefits. There are many reasons why more people are choosing plantation shutters, and a lot of them are better achieved when choosing wooden shutters.
In general, plantation shutters are great at insulation, achieving a greater sense of privacy and making your windows look fancier. Wooden shutters are especially good at these things as their material is harder and denser than PVC.
Plus, plantation shutters in their various frame types have been around for a very long time, especially in wooden form. Many people believe they will never go out of style, making them an extremely important part of home decoration and renovation! This has been historically proven in both flooring and furniture – natural wood is and has always been considered the most premium material!
What Wood Are Timber Shutters Typically Made From?
One of the benefits of wooden shutters is that you can often choose what kind of wood you want them to be made from. This is a great part of the customization and decision-making process as different wood species tend to have different properties.
The main features you need to worry about are the durability and the looks of the wood. Wooden plantation shutters of the highest quality should only be made with species that have nice grain and textures and are hard enough to keep their shape and original look for as many years as possible.
The wood species you should look for when getting timber plantation shutters are red cedar, white ash poplar, pine and basswood. Basswood timber is an especially popular choice in Australia as it has a light tone that fits with many modern renovation looks, plus it is easier to lacquer and maintain than other species just mentioned.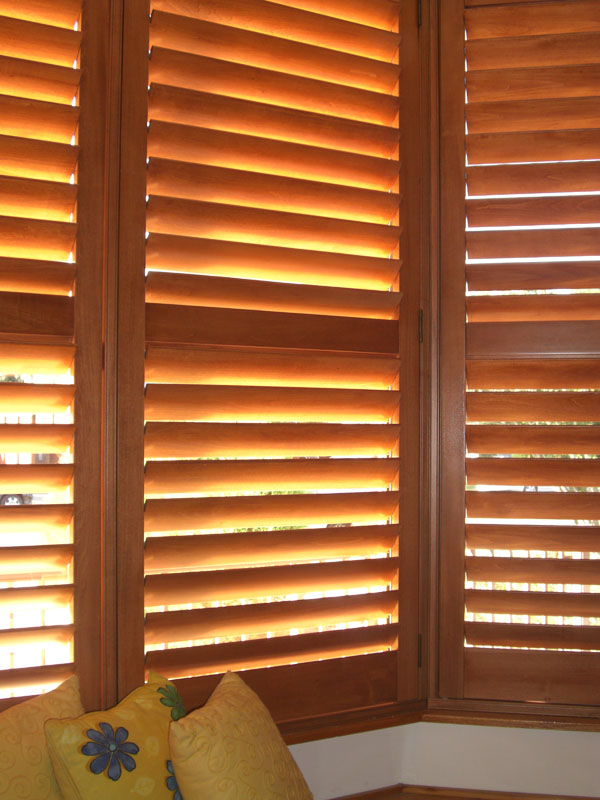 The Pros of Timber Shutters
Though PVC shutters are more popular, that doesn't necessarily mean that they are better than their timber counterparts. The pros of timber shutters definitely outnumber the cons, and depending on what your priorities are, they could very well be the most sensible choice for you and your windows.
Nicer and More Varied Looks
One of the best things about opting for timber shutters is their all-natural look. While faux wood composite shutters are an option, pure timber plantation shutters have a timeless appeal that is virtually impossible to mimic.
Depending on the species you get, a timber shutter will have all kinds of natural textures, grain patterns, natural knots and colour variations that a plastic or synthetic material cannot replicate. The odds are good that a nice timber shutter will match your furniture much better than an aluminum or PVC one.
Higher Resale Value and a Better Investment
If you're thinking long-term, you'll be happy to know that timber plantation shutters are a great way to increase the value of your home if and when you choose to put it on the market down the line.
Because every home has several windows, regardless of its size, you can seriously spice up the quality of your home by having wooden shutters installed in as many rooms as possible. Depending on the size of your home and windows, these wooden window shutters will be visible from the street, making your home stand out even more when competing against other homeowners and sellers.
Though timber shutters can certainly be a pricey option, there's no underestimating their ability to pay for themselves after a few years, making them a wise investment choice.
More Durable
It's no secret that wooden floors and furniture can be quite tough, and timber plantation shutters are no exception to this rule. If you want window shutters that will last as long as possible, whether its for resale value or your own personal home renovation needs, timber shutters are great at providing a long lifespan that can outlive many other things installed in your house.
Superior Insulation and Better Energy Conservation
Timber plantation shutters are very versatile and adaptable when it comes to different temperatures and climates. While they are more popular in hotter regions due to their heat insulation capabilities, they can be installed just about anywhere in the world and still offer some kind of benefit to temperature regulation.
Wooden shutters are great at keeping heat out during the hot months and keeping heat in during the cold seasons. This means that having several timber plantation shutters installed in your home will not only make the coldest and hottest days of the year a little more bearable, but you'll also be saving a bit on your energy bill.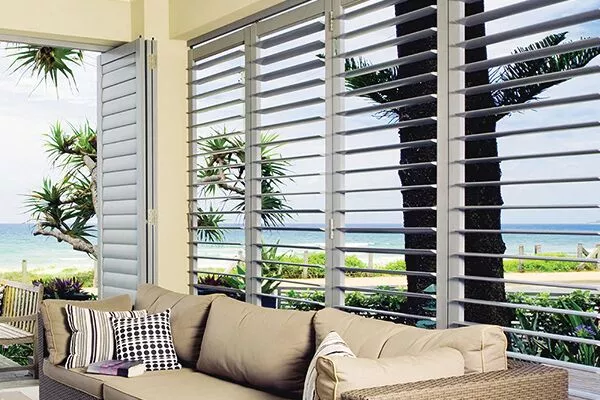 The Cons of Timber Shutters
As wonderful as timber plantation shutters can be, they do have a few drawbacks that need to be taken into account before ordering yourself a new shutter panel set.
More Expensive
What most people consider the biggest drawback of wooden shutters is that they are considerably more expensive than their PVC counterparts. This is likely the main reason why timber shutters are not as popular.
There is a counter-argument which is timber adds more housing resale value. This makes it (perhaps) a better investment overall even if it costs a little more.
Less Waterproof
Though you can fight off mildew with waterproofing finishes and the occasional maintenance with the right polish, timber shutters are unfortunately not perfectly waterproof. They do offer some water resistance, but regions with a lot of rainfall or snowfall will not be ideal for a wooden shutter.
The problem with water is that excess exposure can result in warping or swelling of the louvres or frames. This results in what our installers call "banana frames" where you can see visible bends which don't look good at all. Furthermore, mould can grow into the wood, whereas our waterproof PVC shutters don't have this problem.
Luckily, you can simply remember to close the windows when it rains to avoid 99% of water problems.
A Little More Maintenance
It wouldn't be inaccurate to say that wooden plantation shutters are low maintenance, but they do require bit more upkeep than their vinyl or PVC counterparts. It's very important to polish your timber at least a couple of times each year to help it look fresh and stay healthy.
Failing to polish your timber shutters can have them age faster, which can mean any number of things. You might have to get them replaced or they won't have the resale value you were hoping for when putting your property on the market.
Is Installing Timber Shutters Harder than Installing PVC Shutters?
There's very little difference between installing PVC shutters and timber shutters, even for bifold shutters. They all undergo the same installation process, they both work with the same kind of frames and hinges, and they follow the same steps, regardless of going down a DIY route or hiring a professional.
The one thing to keep in mind for installing plantation shutters is that timber is heavier than PVC. This means that depending on the size of your project, you could be charged a little more on labor fees if the wood your shutters are made from are dense.
Luckily, many of the most popular wood species chosen for timber shutters are lightweight, such as basswood or cedar, so carrying and mounting wooden shutter frames should only be marginally harder than installing vinyl ones. These look great in bay windows or other kinds as well.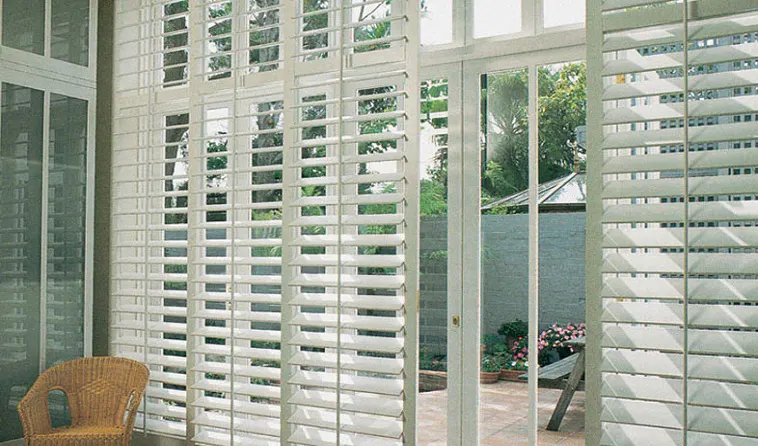 Get in Touch with FloorVenue for your Timber Shutter Needs
If you're ready for a free measure, a consultation or want advice on what kind of timber plantation shutters are available, a simple check-up with FloorVenue is all you need to do. We not only offer great deals on timber panels and frames but also opportunities for you to sit down with experts and get put on the right course.