15 Sep

Ultimate Guide To Bifold Plantation Shutters

If you've browsed images of plantation shutters, you already know just how visually stunning they can be. Allowing in just the right amount of sunlight and constructed using the right kind of timber, these shutters can be the perfect accompaniments to large windows and even the right screen door. And if you browse long enough, you'll eventually come across some of the nicest versions of them all: bifold plantation shutters.

Bifold shutters, regardless of their frame type, can be a fantastic addition to your home depending on the layout and decorative style that you're trying to achieve. While plantation shutters in general are known for their unique looks, the bifold shutters are arguably the most unique looking of the bunch. To help satisfy your piqued curiosity, here's our FloorVenue guide on everything you need to know about these captivating sliders.
What Are Bifold Plantation Shutters?
A bifold plantation shutter is a type of plantation shutter that folds open away from the window frame it was installed on. While most plantation shutters open up in a straight-forward fashion like opening a door, bifold shutters have multiple panels connected by hinges folding onto each other so that they stack neatly and horizontally like side-by-side pages in a book.
How do Bifold Shutters Work?
Depending on how your bifold shutters were installed and what kind of build you chose, they can open all the way from the left-hand side, the right-hand side or open up from the center like double doors.
And like all plantation shutters, the bifold shutters have rotating louvers or panels that can be opened or closed with a tilt rod.
Part of the charm of bifold shutters is that they come in a larger variety of designs and configurations than other plantation shutter variants. This is considered a huge gain as plantation shutters in general are known for their customization-friendly properties. Bifold shutters therefore allow customers with highly specific custom dimensions and design ideas to really get bold and creative with how they want their shutters to be installed and mounted.
So whether you put they in bay windows or anywhere else, they add a lot of style and value.
Can Bifold Shutters be Installed on Any Window?
Not only can bifold plantation shutters work on large windows but they are suitable for large doors as well. They are most commonly installed on large glass screen doors, sliding doors or patio doors that lead out into a backyard or a terrace, making them a great addition to an already highly decorative part of your home.
Like other kinds of plantation shutters, bifold shutters can have custom dimensions to fit any window size. It's just important to note that they are typically installed on medium to large windows as their folding mechanism doesn't feel as practical or look as graceful with small openings. You can still install them on smaller windows if you really want, but they are typically saved for windows in larger living spaces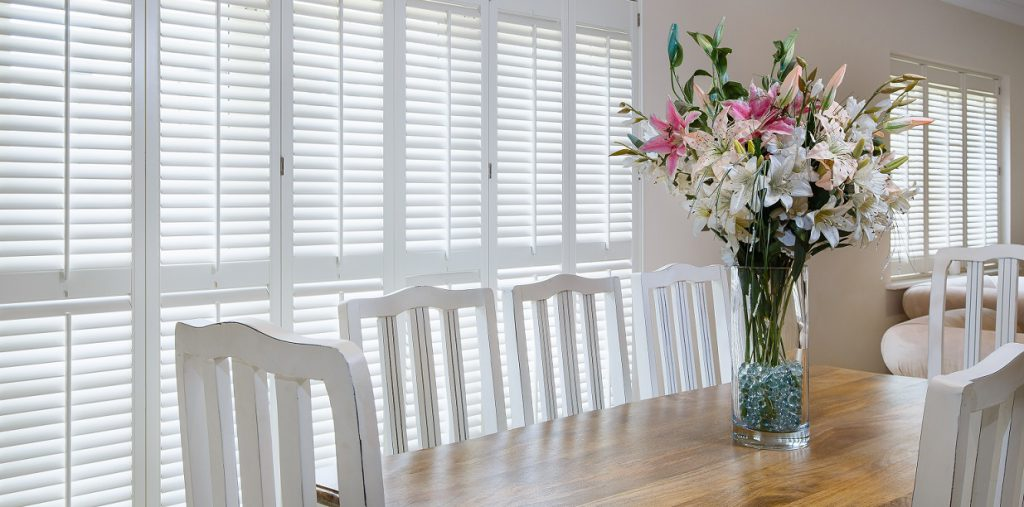 Are Bifold Shutters a Popular Option?
Though they offer great customization potential, bifold shutters are not a particularly popular option among the plantation shutter enthusiasts out there. Their twin, by-pass shutters, are more popular as they use a sliding rail system that is easier to operate, though those shutter types aren't as customizable.
What are the Pros of Bifold Plantation Shutters?
When comparing plantation shutters, keep in mind that because of their unique manufacture and versatility, bifold plantation shutter panels have a lot to offer that can't be found in your standard plantation shutters.
Full Control over Opening and Closing
One of the best things about the bifold design is that they give you total control over how you want to open or close your shutter panels. This can lead to a new world of practical and aesthetic uses that can make other plantation shutters feel lacking.
If you're in the middle of a bright sunny day, you can open up your bifold shutters partially to let in a little light or wind and airflow, or fold all the panels completely out so you can experience extra brightness and a clear unobstructed view of your outdoors.
Combine this with opening up the louvers as much or as little as you want and you can let in as much sunlight as you want to have optimal lighting. This can help create a natural light atmosphere with gorgeous results that even traditional shutters can't match.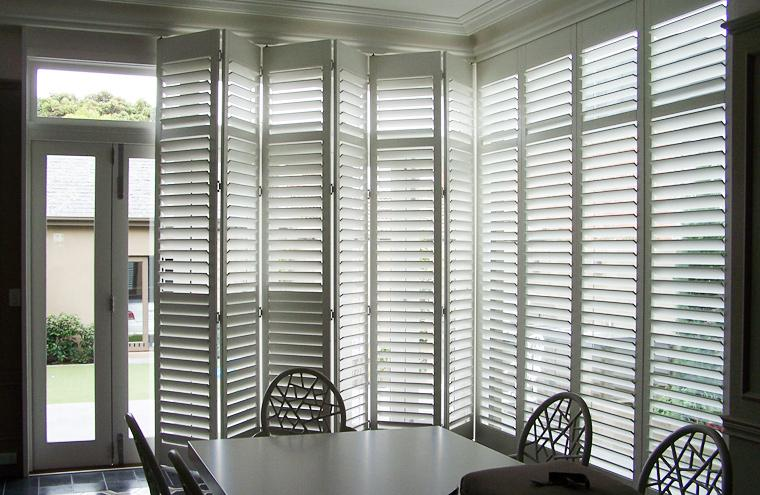 More Custom Made Designs
Due to their hinged system, bifold shutters are more mechanically advanced than other plantation shutters. You can have them custom made to open up from one side only, or from the center to resemble a sort of double door design.
This is where the fun of bifold shutters comes into play, because based on how your home is arranged, you can have bifold shutters design to fit these arrangements. Having the shutters open only from one direction can be great for larger windows or large screen sliding doors. Or you could have them fold out from the center for medium sized windows in a room where you really value looks and décor.
Fantastic, Unique Looks
Speaking of décor, there's a strong argument to be made that bifold shutters are the best looking plantation shutters on the market. Though they are mechanically more complex, they also have a very unique and wonderful look that is achieved both when they are folded and opened.
Timber bifold shutters would especially look excellent in rooms with hardwood flooring or installed on doors that lead out to a backyard patio also made from wood. This makes them a fantastic complementary design for outdoor living spaces.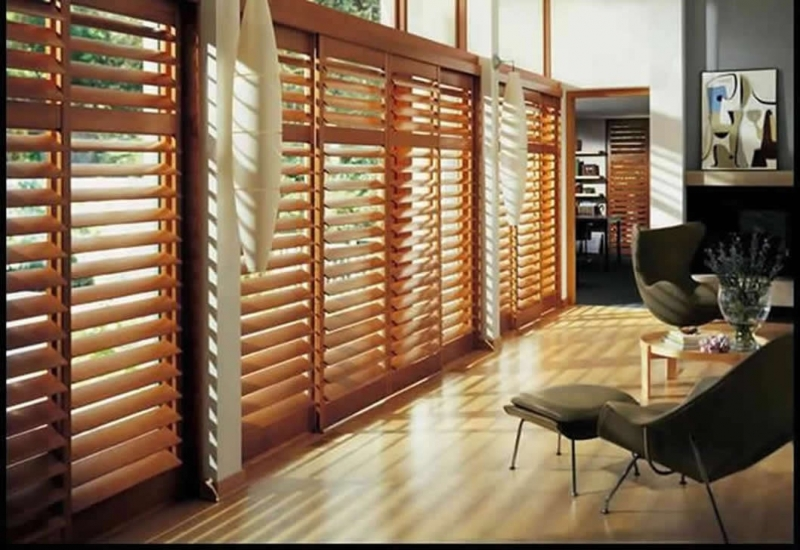 Extra Security and Privacy
Bifold shutters are more similar to doors than they are to blinds or shades depending on how you get them designed, which can really come in handy if you're looking for plantation shutters that not only look good but provide an extra layer of maintaining privacy.
What are the Cons of Bifold Plantation Shutters?
Though bifold shutters clearly have some unique benefits that can't be found with other plantation shutters, they also have a couple of special quirks and flaws that are also unique to their hinge system and affinity for dividing spaces.
Sagging over Time
Due to the way bifold plantation shutter panels fold out from the center of the door or window frame, their weight is not distributed evenly. This means that after a few years of use, they will eventually begin to sag and start leaning closer towards the floor.
Bifold shutters have more moving parts than typical plantation shutters, and because of this extra hardware they are more prone to degradation over time. This can have the shutters unaligned with the frame of your window or door.
Careful Maintenance and Operation
In order to ensure that your bifold shutters last as long as possible, you need to have proper habits when operating them. Over time, improper use when handling, opening or closing these folding shutters can result in damage, requiring repair or replacement.
For one thing, be sure not to open or close the shutters too quickly. This can wear out the hinges, making it more likely for the panels to sag or become off-balance.
It's also very important to make sure to have the shutters or louvers closed when folding out the shutters. Not doing so can result in the shutters moving around and getting banged into something during the folding process.
While this is relatively low-maintenance, it can be seen as a con due to the extra level of care that needs to be taken in comparison to standard plantation shutters.
More Expensive
Bifold shutters require a more elaborate installation process than regular shutter panels thanks to the extra hinges and tracks used in their construction, so you can expect the cost of the shutters to be higher. This can be avoided if you decide to purchase a DIY bifold shutter panel kit, which FloorVenue can easily help you with.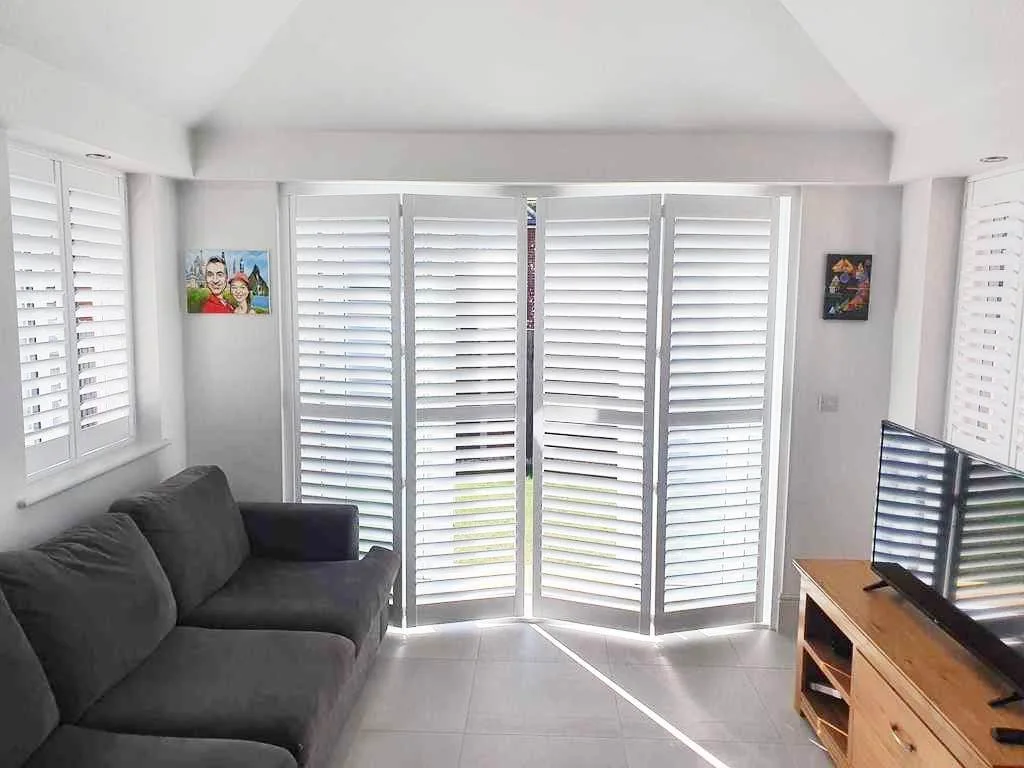 Get in Touch with FloorVenue for Help with your Bi Folding Needs
Bifolding shutters are some of the more difficult panels to install, but that also means they can provide one of the most rewarding feelings once they're finally in your home. If you want to experience this immensely satisfying feeling of having the perfect windows, get in touch with us at FloorVenue as soon as possible.
Regardless of the materials you prefer, such as wood, PVC or aluminum shutters, we can make sure they are installed perfectly in your home. That's why we're one of Australia's most trusted when it comes to shutters.
Whether you're looking for the perfect way to cover up a small window or are in the mood for a robust, expansive project that involves every room of your house, we'll sort you out with our professional and friendly team of consultants and installers that will help you chart out the best course of action.